Joined

Nov 29, 2010
Messages

58
Mallory Park: September 26th 2015

(Rounds 11 and 12 of BRSCC Honda VTEC Challenge)
For the first time in 3 years, the Honda VTEC Challenge headed to Mallory Park in Leicestershire. Following a very public closure in 2013, the circuit reopened last year and is now back to hosting both car and bike events.
Set around the picturesque twin lakes of Mallory Park in Leicestershire, the 1.35 mile circuit was the latest venue to host the 2015 VTEC Challenge.
With a combination of fast straights, the punishing near third of a mile sweeping corner of "Gerard's" as well as one of the tightest hairpins of any UK circuit, the circuit at Mallory is known to throw up the odd surprise along the way.
Entrants:
10 – Matt Walker – EK9 Civic Type R - Tuner
15 – Tony Markham – EP3 Civic Type R – Production
20 – Craig Smith - DC2 Integra – Production
31 – Phil Wright – Accord Type R - Production
46 – Pete Dunmore – EP3 Civic Type R – Production
67 – Marc Kemp – EP3 Civic Type R – Super Tuner
68 – Martyn Kemp – EP3 Civic Type R – Super Tuner
73 – Stu King - DC2 Integra – Production
85 – Stewart Hutchinson – DC2 Integra - Tuner
99 – Matt Le - DC2 Integra – Production
100 - Will Watkin – EP3 Civic Type R – Tuner
Following his engine blow up at Castle Combe, and missing the last event at Brands due to holidays, Mallory saw the welcome return of Tony Markham. With Mallory being his local circuit, Tony was hoping to put on a good performance in front of lots of local support with his repaired and now upgraded Civic.
Qualifying:
With glorious clear skies, the drivers all lined up in the assembly area ahead of their session on track. With some oil having been dropped on the circuit by the proceeding qualifying group, care would be needed in order not to get caught out.
First out on track was Martyn in the supercharged Civic, however his qualifying session was to be cut short when the throttle cable worked free of its mounting.
Pushing hard from the off was Phil Wright in his Accord, who was wringing every last ounce of forward momentum from the H22 power unit. Having had to have the gearbox rebuilt after his spectacular retirement at Brands, the popular "Kato" was back on form.
Stew Hutchinson in his insanely quick Integra soon began to post increasingly improving lap times and had rapidly closed up the gap to Wright on track. After a lap or so of pushing each other to the limits of adhesion, Hutchinson made a ballsy overtake as the duo entered the "Esses".
Marc in the former BTCC Civic joined the action on track and soon began to dominate proceedings with a pole time of 50.876.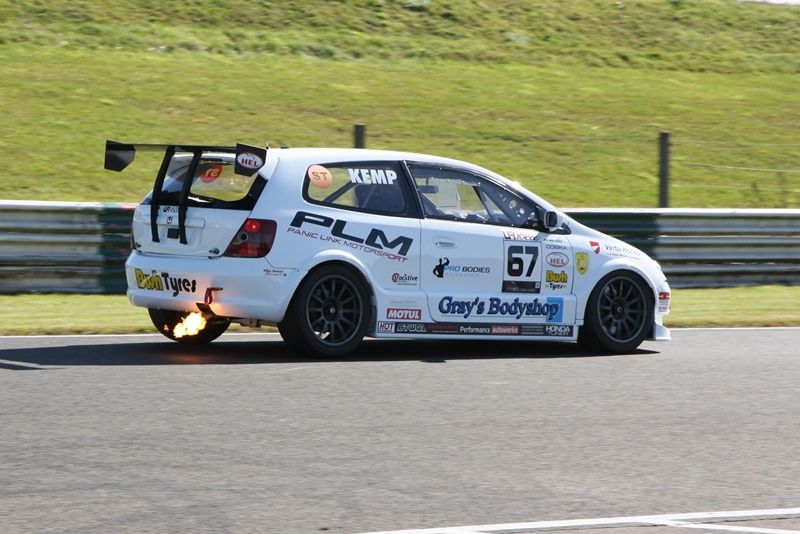 [/URL
]


With all drivers working hard at setting their fastest lap time, the lap times began to tumble, with the Production class cars of King, Le, Smith, Dunmore and Markham all incredibly close and the Tuner car of Watkins slotting in amongst the group with a fastest lap time of 54.734.


[URL=http://s800.photobucket.com/user/VF-Racing/media/1096_zpsbdybdlme.jpg.html]
[/URL
]


The action on track continued at full pelt, but unfortunately a lock up under braking whilst entering the hairpin saw Walker in the Civic clash with the rear quarter of Wright's Accord, resulting in Walker limping his car off track.


This wasn't to be the only incident during qualifying, as unfortunately the session would be cut short due to one of the Smart cars having a big "off".


As the car exited "Gerard's", the rear of the car broke away and with the driver finding he was unable to regain control, the car headed for the infield, where the car dug in and rolled several times before coming to a rest on its wheels.


The session was red flagged and the results were called after only 6 laps.


Pole: Marc Kemp

2nd: Stew Hutchinson

3rd: Matt Walker


Back in the paddock, despite receiving a heavy knock, Wrights Accord was soon patched up thanks to the expert application of black gaffer tape by Phil's right hand man, Tony Parsons.


With Walkers Civic recovered, the investigation into the severity of the damage could get underway.


With a friendly reminder of what makes the series something special, a swarm descended on the stricken Civic to see if it would make it back out on track.


With damage to the steering, wing, headlamp and bumper, Richard Voaden of "Performance Autoworks" cracked open the tool box, cranked up the "A-Team" theme tune and began stripping off the damaged items.


Thankfully, the spare parts carried by the series organisers (also donated by Performance Autoworks) held the necessary suspension components needed to carry out the repairs. With the panel damage "repaired" with cable ties and copious amounts of white gaffer tape, the car took on the look of a Civic again, albeit a one eyed Civic!


With the geometry sorted as accurately as possible, with minutes to spare a quick trip around the paddock declared the Civic ready to race!


Race 1:


With race 1 being the first one before lunch, there wasn't much time to wait once the dust had settled following qualifying.


From the paddock, it was just a short drive into the assembly area where the drivers waited for the previous race to finish.


[URL=http://s800.photobucket.com/user/VF-Racing/media/IMG_4470_zps9opbkwnc.jpg.html]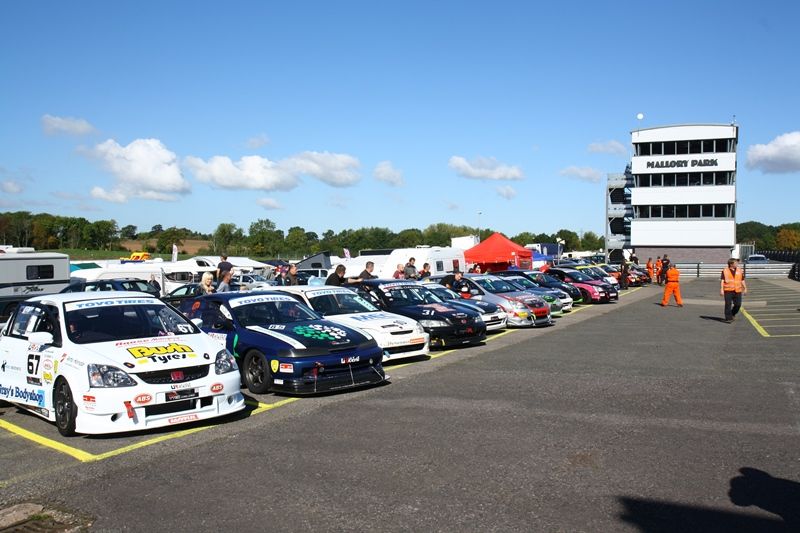 [/URL
]


When the time came everyone was released onto the track to make their way around to the grid to line up.


Once all of the cars were in place, the flag marshal at the rear of the grid waved the green flag to indicate all was ok and the green flag lap could take place. With only a short lap ahead, there would not be much time available to generate any heat into the tyres, but everyone would be in the same situation.


Back on the grid and with everyone correctly positioned, the racing could get underway.


With the red lights illuminated, the revs began to climb in anticipation and then in a blink of an eye the lights go out and everyone headed for the horizon!


Marc Kemp led the pack from his pole position into "Gerard's as the excitement unfolded behind him.


With Walker on the inside line, Wright on the outside and Hutchinson sandwiched in between, all 3 drivers raced with only inches between them!


[URL=http://s800.photobucket.com/user/VF-Racing/media/IMG_4543%20copy_zpscf0cz1zj.jpg.html]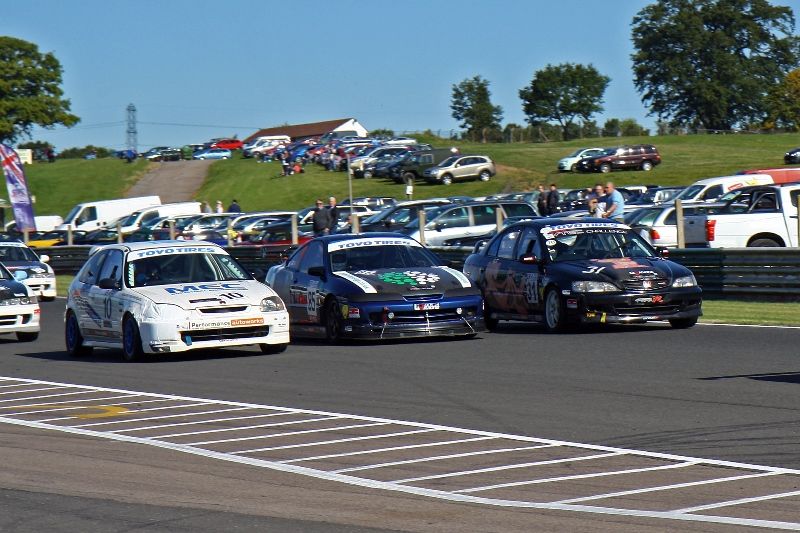 [/URL
]


Making the jump to 5th, Watkin looked for a way through, but with his path blocked and King alongside, he found himself forced into dropping in behind the DC2 of King.


Hutchinson pulled free of Walker and Wright as the trio rounded "Gerrard's" and finding himself on the marbles around the outside of turn 1, Wright had the slightest of lifts but that was enough to give Walker the edge to nip through into 3rd.


Making a charge through the pack was the "Super Tuner" Civic of Martyn Kemp and although he elevated himself into 5th place, a lock up into "Shaw's Hairpin" saw the place handed back to King.


[URL=http://s800.photobucket.com/user/VF-Racing/media/1125_zpsodc1byk5.jpg.html]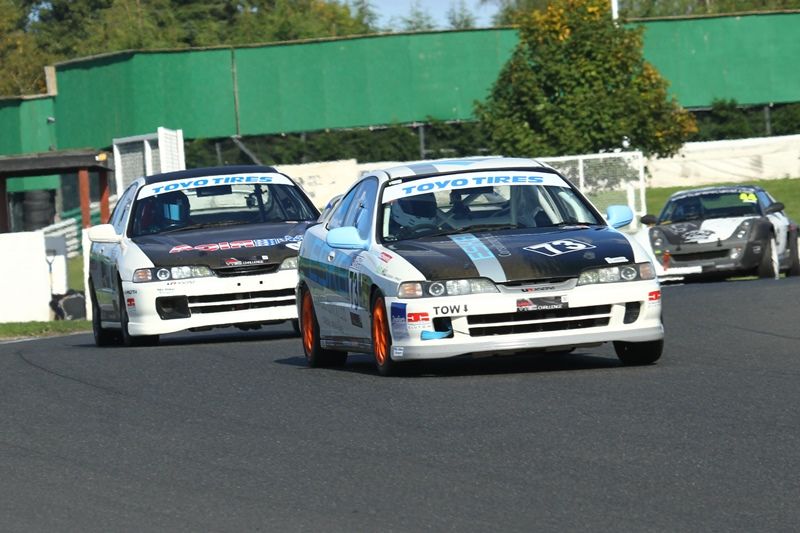 [/URL
]


Production class spoils were hotly contended by the pairing of Wright and King, with King throwing everything at the task in hand. Post race, Wright reported that "there was nothing left to give from either himself or Kato".


Dunmore in the Black and Green EP3 found himself having to take to the grass at "Gerrard's" in order to avoid the Integra of Smith, who was later than expected on the brakes and surprised both drivers. Dropped to the back of the grid, Dunmore proceeded to drive the doors off his Civic and fought to close up on the ever improving Markham in a similar spec'd Civic.


Le in his "Production" class Integra was another driver pulling out all the stops looking for a class podium and challenging King and Wright for race position having fought all of the race distance.


Having battled side by side with Watkin, Smith found himself on the outside of "Gerrard's" and with a lack of grip was soon heading across the grass towards the tyre barrier. What looked like a great save, soon turned sour as the front of the Integra hit the barrier, ending Craig's race there and then.


1st Marc Kemp

2nd Stew Hutchinson

3rd Matt Walker


Class wins were awarded to:


(P) – Phil Wright

(T) – Matt Walker

(ST) – Marc Kemp


Fastest lap: Marc Kemp 50.910 on lap 9 of 18


With Smith recovered to the paddock, the car was inspected to assess the damage, which on first inspection looked substantial.


However, ably assisted by Ed and James, Craig set about replacing the front bumper, straightened out the wing, and generally rebuilding the whole front end, finishing with minutes to spare before the start of race 2.


Race 2:


With both races taking place on Saturday, there was limited time to get the car's turned around after race 1, but other than Craig's marathon effort, thankfully there was little else to do to prepare everyone else for the off.


With all cars lined up on the track, the green flag lap got underway, with Marc Kemp leading the pack around the short circuit at Mallory.


Back on the grid with the red lights showing, all eyes were fixed on the gantry and the 5 second board.


With lights out, both Marc and Stew suffered from a less than ideal start and screaming through from the second row came Phil Wright to take the lead (albeit briefly) until Kemp recovered and re-took P1 before the pack entered "Gerard's".


Making a strong run down the outside was Watkin, however the car became unsettled on the entry to "Gerrard's" which set the driver from Bourne back several places as he got the car back under control. - A problem with the brakes on the Civic severely hampered progress throughout the rest of the race.


Having recovered following the start of the race, both Hutchinson and Walker resumed their starting positions behind Marc as proceedings unfolded.


[URL=http://s800.photobucket.com/user/VF-Racing/media/819_zpstsblasfg.jpg.html]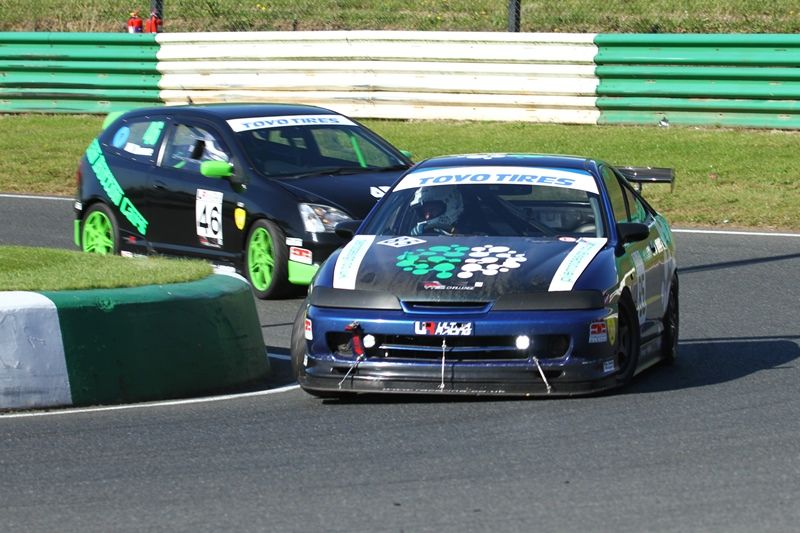 [/URL
]


Making a good start from 6th on the grid, Martyn Kemp was able to drive around the outside of King into turn 1 and set off after Wright who was now in 4th place.


Drama unfolded behind the lead drivers as a rear wheel bearing failure on the Civic of Pete Dunmore pitched the car into a spin, but thankfully no contact was made with any of the other cars on track. Unfortunately, Pete's race was over.


With the Super Tuner Civic of Kemp Snr up into 4th, it was a 3 way scrap for 5th and the "Production" class honours as barely an inch separated Wright, King and Le lap after lap!


Unfortunately King would lose his track position to Le at the "Devils Elbow" when two back markers collided directly in front of King, leaving him nowhere to go.


Both cars left the circuit and into the safety barriers, causing the race to be red flagged.


Restart:


With the cars recovered, there was only enough time left on the clock to run a 4 minute sprint race, but even so drama already meant there would be a new race winner.


Unable to keep the car revving high enough in order to charge the battery, by the time the formation lap got underway the Civic of Marc Kemp had lost all power and had to retire.


With the remainder of the cars lined up, it was all go from the off.


Lighting up the tyres on his Civic, It was Martyn Kemp into the lead, followed by Walker and Hutchinson.


Le went to the outside around "Gerrard's" and was able to make the pass on Wright stick, although Wright put the pressure back on and took the inside line at the "Esses" to move back to 4th.


Pulling out a similar move on the following lap, Hutchinson made the pass on Walker to move into 2nd, allowing him to look at closing down the supercharged Civic.


Once again, the Production class racers put on a superb show of race craft and driver skill with 2 seconds separating the top 4.


With the time running out it looked as though the results could be drawn up, but unfortunately the clerk of the course had other ideas.


With claims of jump starts, the 1st and 2nd cars on the road were handed a 10 second penalty, dropping Martyn and Stew to 6th and 7th and rearranging the top 3 places.


1st Matt Walker

2nd Phil Wright

3rd Matt Le


Class wins were awarded to:


(P) – Phil Wright

(T) – Matt Walker

(ST) – Stew Hutchinson


Fastest lap: Stew Hutchinson 51.780 on lap 2 of 4


Summary:


A great couple of race's (penalties aside), with a fantastic paddock atmosphere thrown in for good measure.


A huge show of thanks goes out to everyone that attended, no matter what their capacity. From driver, to crew to spectators alike, each and every one of you helps make this series what it is today.


Thanks to the series sponsors: Toyo Tires, Competition Clutch, Ultra Racing, Performance Autoworks, Eurospec, Honda's On Track, 6TWO1, Honda Tuner and MOTORV8 MEDIA for their support.


In recognition of his efforts during the day's events, plus the ongoing support given by this individual, the "Spirit of the VTC" award was presented to Rich Voaden.


The Honda VTEC Challenge now heads to Donington Park on the 17th/18th October for the final two rounds of the season.




Words: Jonathan Fletcher

Pictures: Lindsey Fletcher & Jonathan Fletcher
[/URL][/URL][/URL][/URL][/URL]