I guess everybody knows these from the Best Motoring Clips. The Spoon CEO states they added these for "easier handling".
I would like to know a little bit more about these, they are shorter - I meassured approx. 3mm, mounting positions meassured - so obviously they increase negative camber on the rear.
Do people know the difference in factory alignment SPEC on rear camber between the SPEC 96 and SPEC 98, to know how much camber changes by these exactly?
Experience from people who switched from spec 96 to spec 98 arms?
SPEC 96 vs SPEC 98: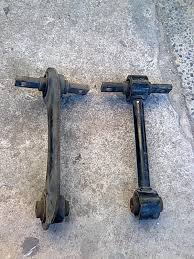 Last edited: