Joined

Nov 29, 2010
Messages

58
Rockingham ISSCL: June 11th/12th 2016
(Rounds 5 and 6 of BRSCC Honda VTEC Challenge)
Following another great event at Silverstone in May, 4 weeks later and the VTEC Challenge rolled into Rockingham in Northamptonshire over the weekend of the 11th and 12th of June.
Running on the "ISSC Long" layout, the assembled drivers set about readying themselves for the qualifying session.
Entrants:
14 – James Tracey – DC2 Integra – Production
25 – Adam Jones – EP3 Civic Type R – Super Tuner
22 - James Nolan – DC2 Integra – Production
39 – Rob Burkinshaw – DC5 Integra – Tuner
45 – Mark Bennett – S2000 – Tuner
46 – Pete Dunmore – EP3 Civic Type R – Production
99 – Ryan Focht - DC2 Integra – Production
666 – Paul Donkin – EP3 Civic Type R – Production
Absent at Silverstone due to gearbox issues, Rob Burkinshaw was back behind the wheel of his DC5 Integra and looking to make amends for his absence. However, reading like a new Lemony Snicket "A Series of Unfortunate Events" novel, several drivers were suffering with various other mechanical woes, or waiting for parts to turn up!
The drivers that were able to attend, were still intent on putting on a good show for the assembled crowds and to settle some inter class rivalries!
Based in the Inner Paddock, everyone arrived Friday, to be greeted by rain of biblical proportions. At one point we had an enquiry from a Mr. N. Oah and his VTEC Ark!
Thankfully the rain subsided and after a misty start to the day, it began to clear.
Qualifying:
Following the regulatory sign on and scrutineering, everyone finalised their preparation ahead of the qualifying session.
With time upon them, the drivers headed to the assembly area before being waved onto the track.
With a few of the drivers having never raced at the circuit before, everyone took their time to become accustomed to the anti-clockwise layout.
Although not a circuit popular with Burkinshaw, from the off it was the Tuner class driver that began to set the pace, with Adam Jones and Mark Bennett both vying for the top spot.
Paul Donkin once again set the fastest "Production" class time of the session, followed by Ryan Focht, James Tracey Pete Dunmore and James Nolan.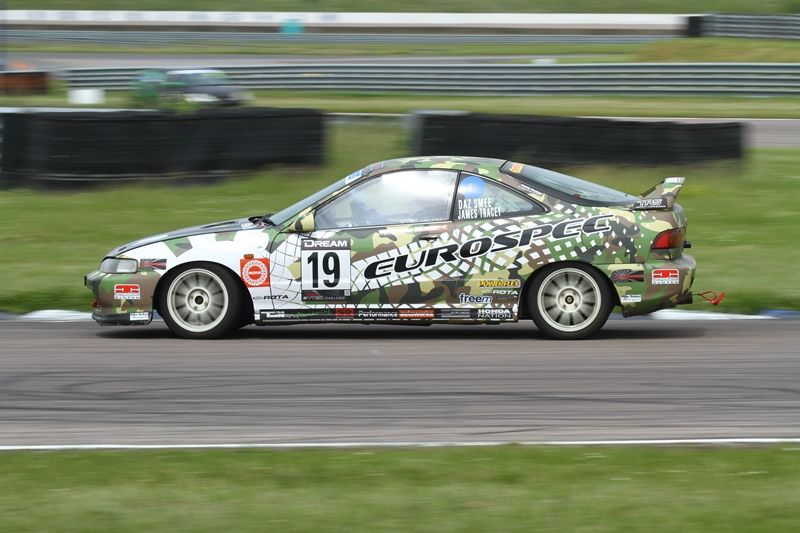 [/URL
]


With the seconds on the clock counting down, both Burkinshaw and Jones set their fastest lap time on their final lap.


Pole: Rob Burkinshaw

2nd: Adam Jones

3rd: Mark Bennett

With all drivers surviving without issue, there was little left to do ahead of race 1, other than re-fuel, check the tyres and carry out any last minute adjustments.



Race 1:


With the grid released from the assembly area, all cars lined up on the banked section of the Rockingham oval in readiness for 15 minutes of fun and dramatic action.


Burkinshaw sat on pole, with Jones alongside and Bennett and Donkin breathing down their necks on row 2, waiting to capitalise.


With the wave of the green flag, drivers performed their warm up lap before re-taking their grid slots.


With everyone's eyes on the lights, the 5 second board was shown and the volume on the grid stepped up a level as rev's began to rise.


Lights on……. lights out!


Burkinshaw gets clean away, but Jones heads backwards through the pack at an alarming rate to end up last. (A problem with the car's ECU at fault). Seeing an opportunity, both Bennett and Donkin benefitted to slot into 2nd and 3rd respectively as the pack headed around the turn 1 banking.


[URL=http://s800.photobucket.com/user/VF-Racing/media/1058_zpse0rolg7u.jpg.html]
[/URL
]


With Dunmore up to 4th place as the pack joined the infield, Tracey, Focht and Nolan had all gotten away cleanly and avoided collecting the Civic of Jones as he struggled to get off the line. However, once the Civic was rolling, Jones dropped the hammer and began to reel in the those ahead of him on the road.


After a lap of the circuit, Jones was up to 4th and set his sights on the Civic of Donkin in 3rd.


Just behind, Dunmore and Focht battled for 2nd in Production class and at "Yentwood" it was Focht who emerged ahead. Left to defend against Tracey in the Integra, Dunmore battled valiantly, but unfortunately had to concede position.


Setting off after Focht in another Integra, Tracey had the bit firmly between the teeth, however difficulties with gear selection, caused the driver from Preston to miss out on a closer battle, but came home 3rd in class.


[URL=http://s800.photobucket.com/user/VF-Racing/media/384_zps8eirjw55.jpg.html]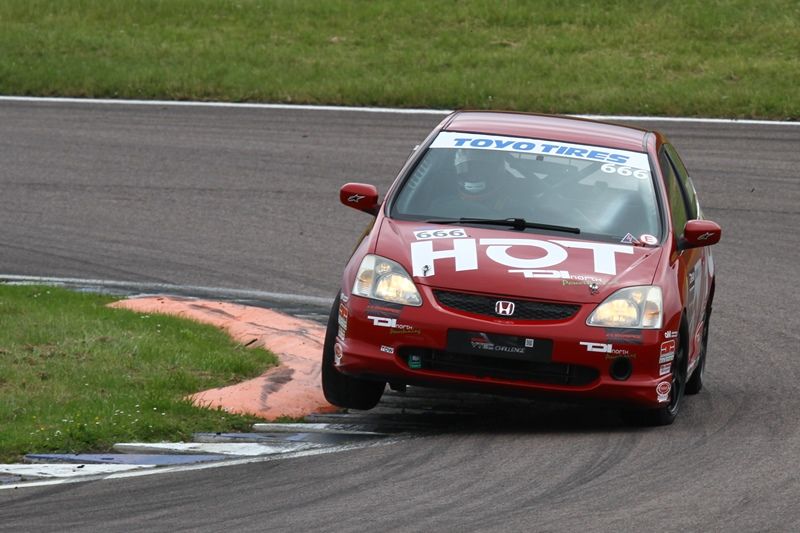 [/URL
]


The battle for 3rd began to hot up when Adam closed up on Paul Donkin, however no matter how hard he tried, Adam was unable to find a way past. On the infield section, Paul kept the Super Tuner at bay and used the car's handling to full effect to stay ahead. Come the high speed banking, Paul had pulled out enough of a gap to allow later braking before re-joining the infield.


Having managed to eventually close up on Paul, Adam unfortunately out braked himself into "Deene" which undid all of his hard work and took the pressure off of Paul, who would go on to take 3rd overall.


[URL=http://s800.photobucket.com/user/VF-Racing/media/691%20copy_zpsa91ljhe5.jpg.html]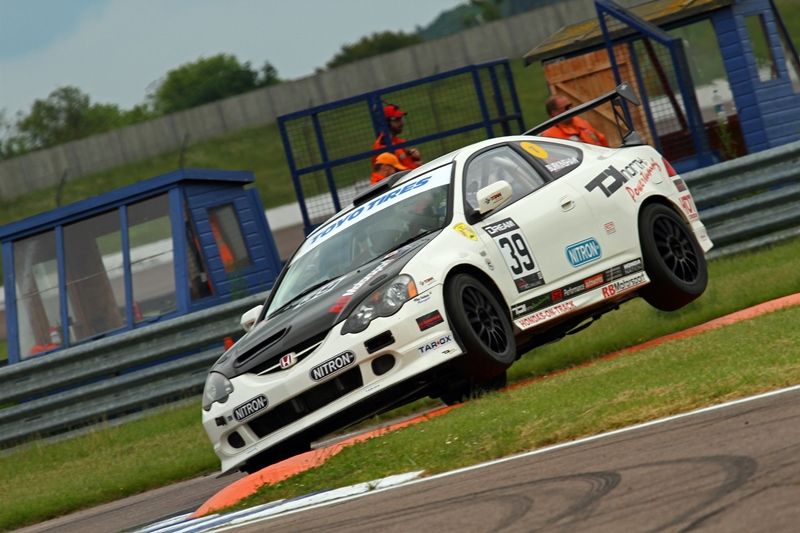 [/URL
]


Burkinshaw kept charge out front, with Bennett pushing him and keeping him honest all the way to the line.


A great first race, with close fought battles throughout and a return to winning form for Burkinshaw.


1st: Rob Burkinshaw

2nd Mark Bennett

3rd Paul Donkin


Class wins were awarded to:


(P) – Paul Donkin

(T) – Rob Burkinshaw

(ST) – Adam Jones


Fastest lap: Rob Burkinshaw 1.40.826 on lap 4 of 9



Race 2:


With the second race taking place on Sunday, it was a relaxed affair for the remainder of Saturday and an easy start to the day come Sunday.


With rain forecast, all drivers relocated to the garages, which we had been assigned for the day.


With the basic checks taken care of, everyone suited up for race 2.


Off the line and Burkinshaw struggled to get away cleanly, this let Bennett seize the opportunity and he took off into the lead, with Donkin challenging for 2nd place as the trio headed to the hairpin onto the infield.


Jones remained in 4th, but was already chasing the leading trio. Focht and Tracey picked up where race 1 ended and with Tracey making another great start was challenging Ryan for position.


Nolan in the Integra, got the jump on Dunmore making it a clean start for all involved.


[URL=http://s800.photobucket.com/user/VF-Racing/media/119_zpsq6tqghkf.jpg.html]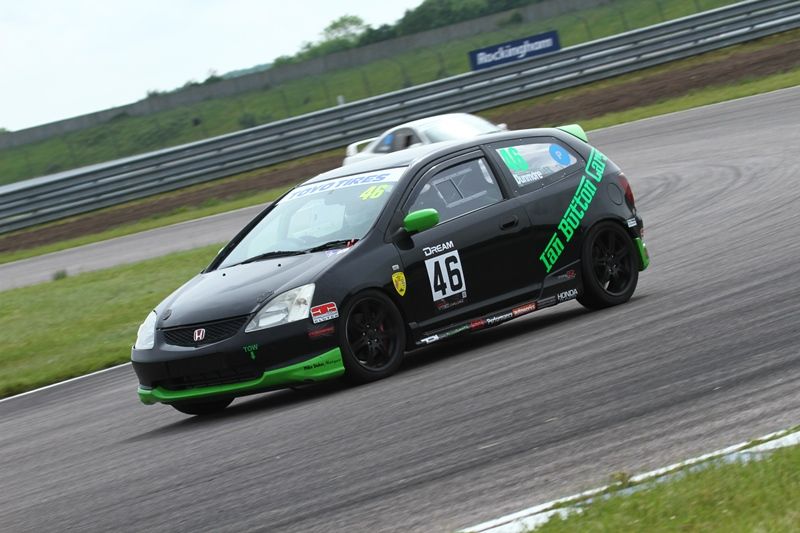 [/URL
]


Into "Deene" for the first time and Bennett was still out in front, but under pressure from Burkinshaw and Donkin. Although on the inside, Burkinshaw was unable to nose ahead and continued to fight Donkin for 2nd. Into "Yentwood" for the first time and Burkinshaw nosed ahead.


The battle between Bennett and Burkinshaw would play out over the entire 15 minutes. Mark soaked up the pressure throughout the race, and even when the rain began to fall towards the end of the race, Mark kept his composure.


[URL=http://s800.photobucket.com/user/VF-Racing/media/473_zpsyflubzna.jpg.html]
[/URL
]


Pushing hard to stay in contention saw the Integra of Burkinshaw begin to suffer with tyre degradation, which limited his opportunities to make a move for the lead, but he would be there to capitalise should any problems befall Bennett. (They did not!)


Donkin held the gap over Jones, who was now suffering with the Civic's fuel inertia cut off switch. Resetting it meant he was able to continue, however, charging hard saw Ryan close up and continue to pressure Jones to the line.


[URL=http://s800.photobucket.com/user/VF-Racing/media/889_zpslxn59sya.jpg.html]
[/URL
]


Suffering still with gear selection, Tracey began to fall away from Focht, but was well aware of a closing Dunmore, who had passed Nolan and was making ground on the camo wrapped Integra.


Pulling a gap on Burkinshaw saw Mark Bennett secure his first ever race win and the first win in VTEC history for a S2000!


1st Mark Bennett

2nd Rob Burkinshaw

3rd Paul Donkin


Class wins were awarded to:


(P) – Paul Donkin

(T) – Mark Bennett

(ST) – Adam Jones


Fastest lap: Mark Bennett 1.40.075 on lap 6 of 9


Summary:


With the weather threatening to create havoc, thankfully all sessions took place in the dry. The racing maintained close battles and both races created a different winner.


Once again, a huge thanks goes out to every single person that took the time and effort to attend the race meet, your support is very much appreciated.


In recognition of his first ever race win and the determination to achieve this, the "Spirit of VTEC" award went to Mark Bennett. Well done Mark!


Thanks go out to the series sponsors: Toyo Tires, Competition Clutch, Dream Automotive, Performance Autoworks, Eurospec, TDi North, Simulator Racing, Honda Nation and MOTORV8 MEDIA for their continued support.


The series heads to Snetterton next for rounds 7 & 8 on the 16th & 17th of July.



Words: Jonathan Fletcher

Pictures: Lindsey Fletcher & Jonathan Fletcher
[/URL][/URL][/URL][/URL][/URL][/URL]