Joined

Nov 29, 2010
Messages

58
Snetterton 300: July 16th/17th 2016
(Rounds 7 and 8 of BRSCC Honda VTEC Challenge)
For the most recent rounds of the Honda "VTEC Challenge", the series and drivers headed east to the circuit of Snetterton in Norfolk. Running on the 300 layout, there would be both challenging and technical infield sections, combined with the flat to the floor straights that are amongst the longest to grace the UK's circuits.
Entrants:
15 – Tony Markham – EP3 Civic Type R – Production
25 – Adam Jones – EP3 Civic Type R – Super Tuner
22 - James Nolan – DC2 Integra – Production
27 – James Slater – EP3 Civic Type R - Production
39 – Rob Burkinshaw – DC5 Integra – Tuner
45 – Mark Bennett – S2000 – Tuner
46 – Pete Dunmore – EP3 Civic Type R – Production
58 – Martyn Kemp – EP3 Civic Type R – Super Tuner
73 – Stu King – DC2 Integra - Tuner
666 – Neil Holden – EP3 Civic Type R – Production
It was great to welcome back Tony Markham and Neil Holden to the fold, both having been absent for a while.
Paul Donkin who had been the pilot of the 666 Civic, has taken up the opportunity to compete in a major championship and further his chances of a move onto a global stage. We at the VTEC Challenge wish him all the best in his future developments.
With Paul out, Neil has stepped up to take over the reins and get back in the seat, following his drives in the Civic last year.
Tony has been trying out other series to further his race craft and having missed Silverstone and Rockingham was back to race in his "Production" class Civic.
It was also great to welcome new driver James Slater to the VTEC Challenge, who was also racing in a "Production" class EP3 Civic. A relative newcomer to racing, James has competed in the "CSCC Tin Tops" previously and was out to get some more seat time alongside our friendly bunch of drivers.
Having missed Rockingham, Stuart King was back with his "Tuner" DC2 Integra, having received some handling and aero upgrades, the once "Dainty Teg" was now more "Bad Ass Teg"! thanks to the skilful hands of Rich and Simon at "Performance Autoworks".
Both "Super Tuner" entrants were challenged with difficulties in the days leading up to the event. Adam Jones was faced with a space in the engine bay where a gearbox should live and was chasing parts from Japan in the days running up to Snetterton. Thankfully with the help of Rob Burkinshaw, a working box was put together and Adam was able to finish things off in readiness to compete.
Martyn Kemp had been besieged with bad luck since the demise of his engine at Silverstone back in May.
The search for parts and the availability of those required to carry out the work lead Martyn down to the wire. With the car on the dyno on the Wednesday before the race, a bearing picked up and ruined his chances of competing with his supercharged Civic. Not giving up, Martyn called in all manner of favours and managed to secure a Civic that he and son Marc had built for a friend. Untested and in the need of a few bits swapping over, Martyn was ready to race.
Mark Bennett was also one to suffer with gremlins ahead of the race. With the S2000 being somewhat rarer than the Civic's, parts can be hard to come by, however thanks to Mike at "R-Motion" a new rear hub assembly was sourced and shipped to Andy at "Veysport Performance" for a prompt replacement.
With a test session planned on Saturday morning, a few of the drivers took advantage of the extra track time in order to familiarise themselves with the track and shake down their cars.
It looked as though Martyn Kemps woes were set to continue, when after 2 laps the Civic was unable to get any gears!
Upon returning to the paddock, it was quickly diagnosed that there were severe issues with the clutch and only a replacement would be the cure.
Fortunately, Martyn and those that support the VTC are made of stern stuff and using Ian Button's local connections, a clutch was on its way to the circuit. It was now just a "small" matter of replacing said clutch in the few hours remaining before qualifying!
With a herculean feat by Martyn, Pete Dunmore, Ian (Pete's father in law), Andrew Burkinshaw and numerous others, the job was done and dusted in under 2 hours, with little more than basic tools and a lot of determination!
Upon removing the old clutch, it was found that the pressure plate had disintegrated into multiple pieces and was totally scrap.
With everyone else prepared, it was time for qualifying and with temperatures in the mid to high 20's, the driver strapped themselves in for their session and headed to the assembly area.
Qualifying:
Qualifying was called early, which caused a bit of last minute rushing around for some, but everyone made it with time to spare.
With a 20 minute session (instead of the usual 15 minutes) there would be around 10 laps of the 300 layout to find the fastest route and set the quickest lap times.
After already getting their eye in during practise, it was Burkinshaw and Bennett who took the top two spots from early on, with King in the DC2 locking out a top three of "Tuner" class cars.
It was the new driver James Slater that set the fastest "Production" class time of the session, followed by Neil Holden and Pete Dunmore.
Pole: Rob Burkinshaw
2nd: Mark Bennett
3rd: Stuart King
Thankfully qualifying was relatively trouble free for most, leaving little left to do ahead of race 1 on Sunday. Adam Jones was left struggling to get the best from his turbocharged Civic, with a distinct lack of boost hampering progress. A quick check under the bonnet provided the explanation, a couple of pipes had come adrift and with these plumbed back in, all was good.
Race 1:
With the cars released from the assembly area, everyone took up their positions on the grid, ahead of 20 minutes of racing.
Burkinshaw sat on pole, with Bennett alongside in the S2000 and King and Slater taking up the second row.
Running on the 300 layout, meant a lengthy green flag lap before lining back up in their grid slots.
With all eyes on the lighting gantry, the red lights came on and the countdown began.
With lights out, both Burkinshaw and Bennett got a clean getaway, with King also retaining his 3rd place into turn 1. Jones struggled with gear selection off of the line, allowing Holden to come through from 6th and passed Slater and Dunmore into 4th place and on to chase King.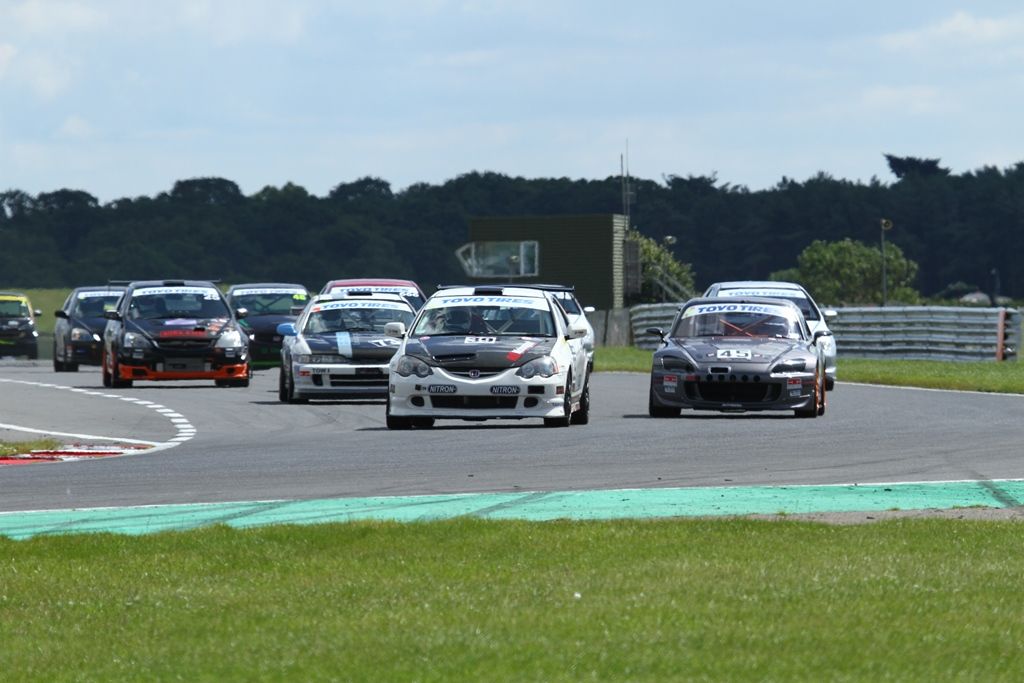 [/URL
]


Dunmore, Slater, Kemp and Markham began their scrap for "Production" class position in their EP3 Civic's. Although entered in "Super Tuner" Kemp's Civic was "Production" spec and well matched with the 3 other Civic's he was battling with.


Burkinshaw began to open the gap on his closest rival Bennett and in doing so set a new lap record for the VTEC Challenge over the course of the race. From here on in, the DC5 stamped its authority on the proceedings and led from lights to flag.


[URL=http://s800.photobucket.com/user/VF-Racing/media/1707_zpsod8w1qd8.jpg.html]
[/URL
]


In pursuit of Bennett, King began to close the gap on the S2000 when disaster struck. With a loss of power, there was nothing left to do but retire and the driver from Cheltenham pulled onto the verge at "Riches", left to spectate.


With Stu out, Adam slotted in the vacant 3rd place, but was unable to close up on 2nd place Bennett.


Production class honours began to be a close fought affair as Holden lost out to Dunmore early on, but a loss of the passenger side mirror meant Holden was unsighted as he mounted his comeback and Pete was left to concede his position in order to avoid contact.


It was now a chase for P1 in Production, with Holden from Dunmore and Slater all fighting for the win. A last lap problem for Dunmore while chasing Holden saw the Civic of Slater snatch 2nd in class and Dunmore to recover and take 3rd in class/6th overall.


Kemp and Markham both fought tirelessly for the whole of the race, swapping places and going toe to toe as they lapped the Norfolk circuit.


[URL=http://s800.photobucket.com/user/VF-Racing/media/586_zps4kqqk9xt.jpg.html]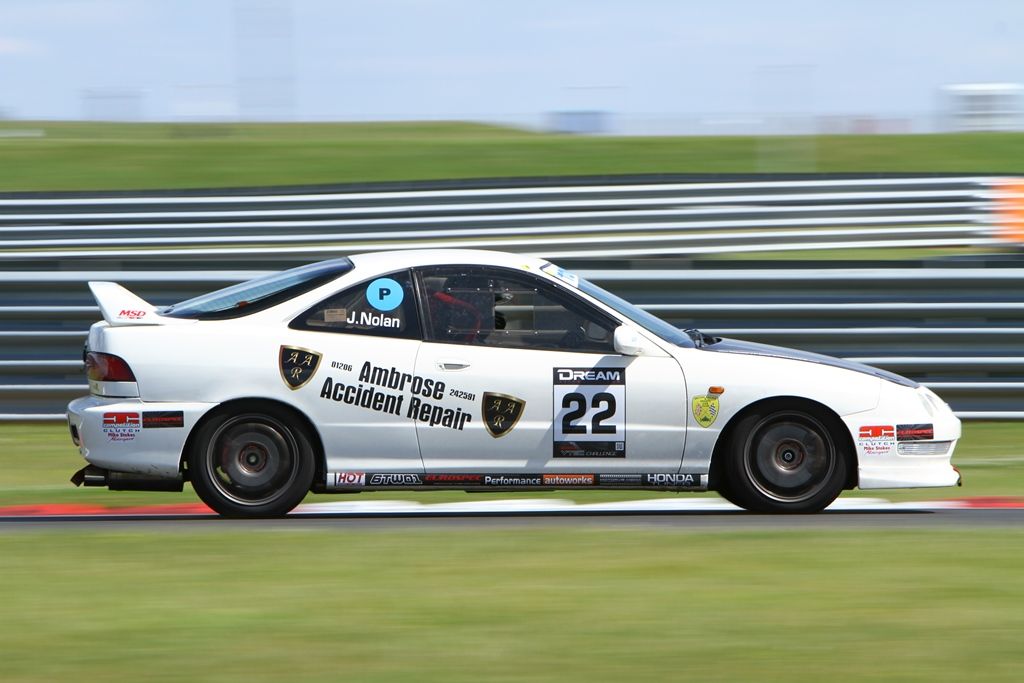 [/URL
]


Nolan and his DC2 Integra ticked off another race finish on his way to removing his novice cross. After having some handling issues during qualifying, it was great to see lap times dropping as the Suffolk based racer got more seat time under his belt.



1st: Rob Burkinshaw

2nd Mark Bennett

3rd Adam Jones


Class wins were awarded to:


(P) – Neil Holden

(T) – Rob Burkinshaw

(ST) – Adam Jones


Fastest lap: Rob Burkinshaw 2.09.712 on lap 9 of 10 (New lap record)



With his car recovered to the paddock, work began on investigating the reason behind Stuarts DNF. With Rich from "Performance Autoworks" dancing his fingers over the keyboard of the laptop a failed TPS was diagnosed as the culprit.


Upon removing it from the throttle body, the fault was obvious at it fell into two pieces!


Thankfully, a spare was found in the box of spares carried in the VTC motorhome, which was uncannily donated by Richard a few seasons ago!


With the replacement fitted, the car was checked over and it sprang into life, all ready for race 2.



Race 2:


With the second race taking place at the end of the day on Sunday, the drivers had to cope with being baked in their race suits as they sat in the assembly area.


Starting from the back of the grid, Stu King would be chomping at the bit to get up to the sharp end and take the fight to Rob and Mark.


Off the line and Burkinshaw hooked up and took charge at the head of the pack. Bennett and Jones were less fortunate and lost out to Holden who nipped through in the Civic to take 2nd (albeit briefly) until Bennett powered back through.


[URL=http://s800.photobucket.com/user/VF-Racing/media/1676_zpsphiib4xx.jpg.html]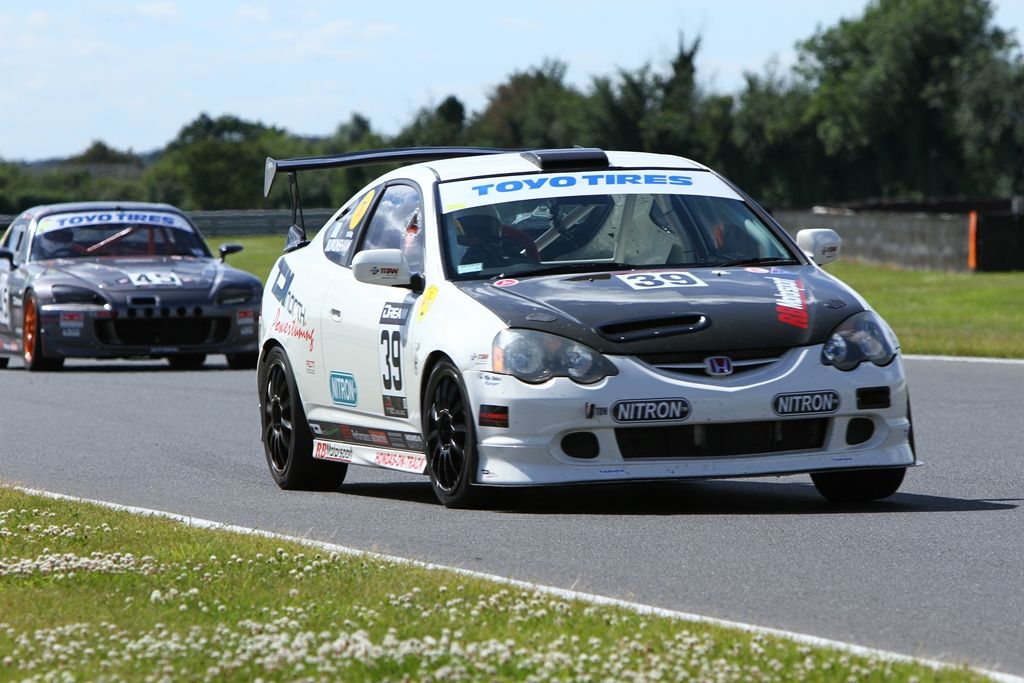 [/URL
]


Storming through and up into 3rd place before the end of lap one, was the freshly repaired DC2 piloted by Stuart King. Running at full chat, the H22 engined Integra was showing all those in attendance what's possible with some old skool engineering.


All 4 "Production" class Civics, plus Kemp's "ST" EP3 all battled closely over the opening laps, with positions swapping as the race unfolded.


[URL=http://s800.photobucket.com/user/VF-Racing/media/937_zps5dqmtmie.jpg.html]
[/URL
]


Picking back up the pace following his troubled start, Jones in the turbo'd EP3 began to climb back up the field and after passing the "Production" class entrants was left to try and reel in Stuart, but King remained out of reach and Jones remained in 4th place until the chequered flag.


An unfortunate spin early on for Tony Markham triggered the fuel inertia switch which meant his race came to an early finish and robbing Kemp of another race long battle for position, however with no brakes for the last 3 laps, Kemp decided to ease off and take the finish, rather than push for a higher placed finish.


With Holden out in front leading the "Production" class, a second class victory looked to be on the cards, however fate sometimes is a cruel mistress and a total loss of drive/power (later found to be a fuel pump issue) saw Holden side-lined and Dunmore take the class lead at his local circuit in front of family and friends.


[URL=http://s800.photobucket.com/user/VF-Racing/media/1064_zpsdothjs4i.jpg.html]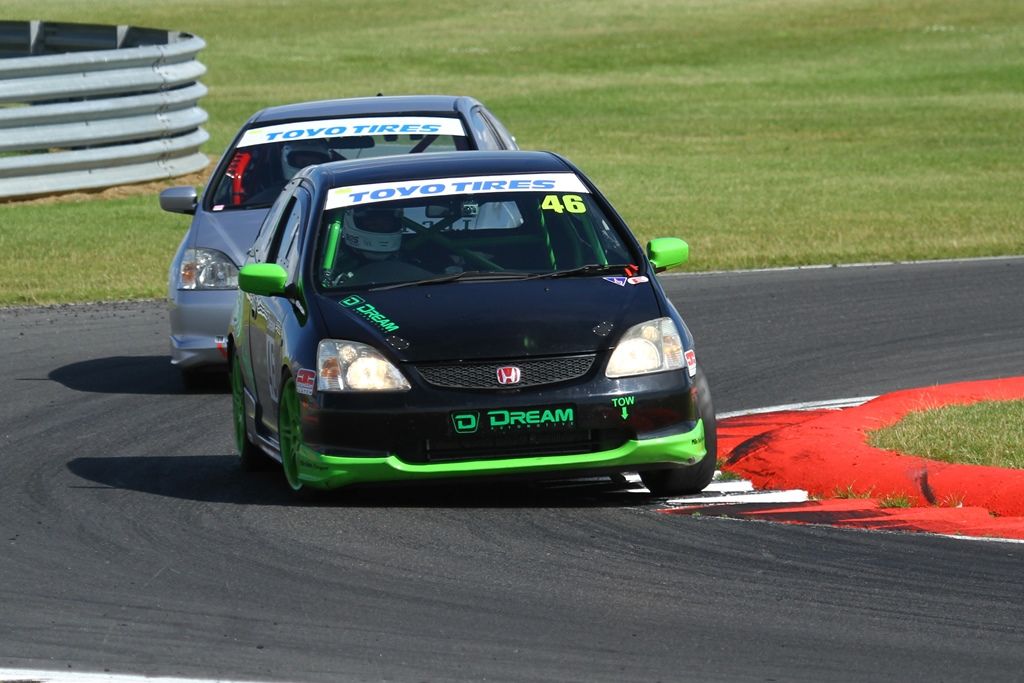 [/URL
]


Slater and Nolan continued to drive a faultless race and were rewarded with a 2nd and 3rd in class respectively.



1st Rob Burkinshaw

2nd Mark Bennett

3rd Stuart King


Class wins were awarded to:


(P) – Pete Dunmore

(T) – Rob Burkinshaw

(ST) – Adam Jones


Fastest lap: Rob Burkinshaw 2.10.796 on lap 3 of 10


Summary:


With the sun beating down over the weekend, keeping cool was high on everyone agenda, but the increased temps and longer sessions, meant drivers needed to think hard about their set up and keeping hydrated. The racing provided some great battles and drivers both regular and new to the series battled for class and podium finishes throughout both races.


Once again, huge thanks go out to every single person that took the time and effort to attend the race meet, your support is very much appreciated.


In recognition of his involvement in sorting Martyn's clutch, helping James with his tracking and welding up a part for another racer, as well as various other bits and bobs, the "Spirit of VTEC" award went to Ian Button. Well done Ian!


A special mention also has to go out to everyone in the paddock this weekend, as just about all of you got stuck into one problem or another to make sure everyone got out to race. This was a truly humbling and magical experience to watch unfold. Thank you.


Thanks go out to the series sponsors: Toyo Tires, Competition Clutch, Dream Automotive, Performance Autoworks, Eurospec, TDi North, Simulator Racing, Honda Nation and MOTORV8 MEDIA for their continued support.


Finally, thanks to Georgia for being on hand throughout the weekend, making sure all the drivers got their water after being in their mobile ovens!


The series heads to the coastal circuit of Anglesey next for rounds 9 & 10 on the 6th & 7th of August.



Words: Jonathan Fletcher

Pictures: Lindsey Fletcher & Jonathan Fletcher
[/URL][/URL][/URL][/URL][/URL]