Joined

Jul 8, 2011
Messages

1,682
I've noticed this topic come up several times over my time on the forum and there seems to be a fair bit of uncertainty amongst a lot of users.
so I thought i would post the Exact law regarding registration plate sizes for imported vehicles as it applies to EK9 or any JDM spec car owners.
If a mod could perhaps sticky this it may be useful for future reference?

"Imported vehicles whose construction or design cannot accommodate standard size number plates are permitted to display registration plates with smaller characters, in line with those for tricycles and quadricycles detailed in the table. There margins and vertical space between groups may also be reduced to 5mm"
THE RELEVANT DIMENSIONS FOR TRICYCLES AND QUADRICYCLES:

Character height: 64mm
Character Width: 44mm (except the figure 1 or letter I)
Stroke width: 10mm
Space between two characters in group: 10mm
vertical space between groups or characters: 13mm
horizontal space between groups of characters: 30mm
Margin: 11mm
this information is quoted from the current official VOSA MOT Inspection manual.
Section 6.3- Page 5. Can also be found on the online Manual via this link
m4s06000305
Plate Shapes and relevant letter configurations: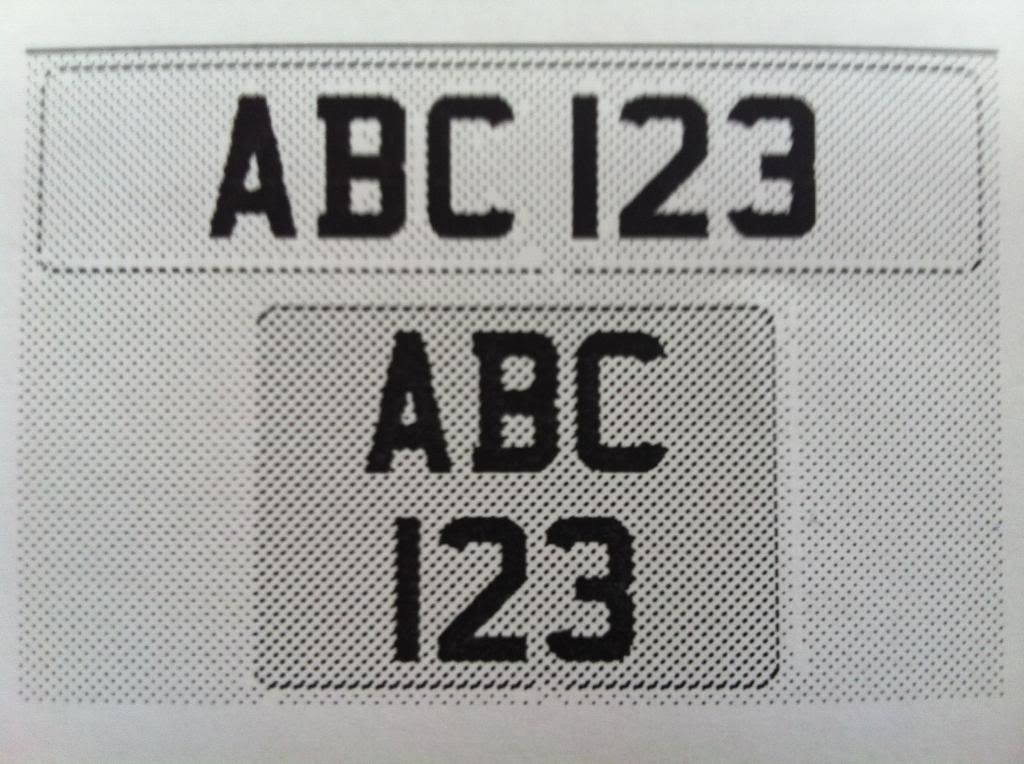 As you can see in the picture above if you are using a JDM size plate, the letters must be layed out in 2 rows NOT all on one line. (apologies for the picture being upside down but you can still see the lay out)
POST CODE AND BS NUMBERS.
These regulations secede to be regulated by VOSA in 2010 and are not no longer testable as part of an MOT. The police are now prosecuting people for this on behalf of the DVLA.
The manual did state:
"For vehicles registered and new plates fitted ON or AFTER 1st of September 2001, all number plates must display a post code and BS number" the DVLA may have changed this since 2010 but i cannon find any official info to confirm this.
The VOSA Manual is freely available to the public online:
m4i00000001