Joined

Nov 20, 2011
Messages

1,322
Car(s)

EK9/E82
So this is my build Thread for my ek9.
So in October 2016, i was looking for a rolling shell ek9 to start my next build. I didn't want a complete one as i would've kept it stock. luckily i came across the one i purchased that had no engine, no seats, steering wheel, no rear wing. So a nice blank canvas to do my thing with.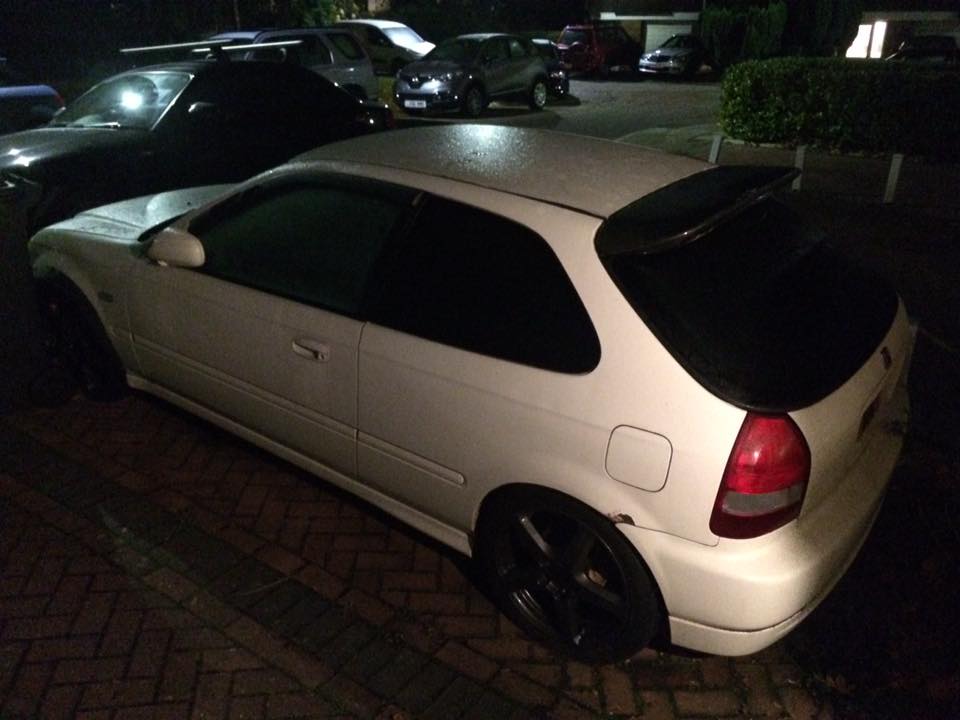 This car was owned by a forum user goes by the name of k20lth. it was k24 turbo before i owned it but i didnt get engine bits with it, what i did get was miester r coilys, dc2 subframe, braided lined all round, wilwood calipers.
November 2016 i purchased the k tuned race shifter, that meant that i was now 100% committed to go kseries on the ek9
December 2016 i ended up picking up the ek9 from the sellers house after i left it there for a month which im happy they allowed.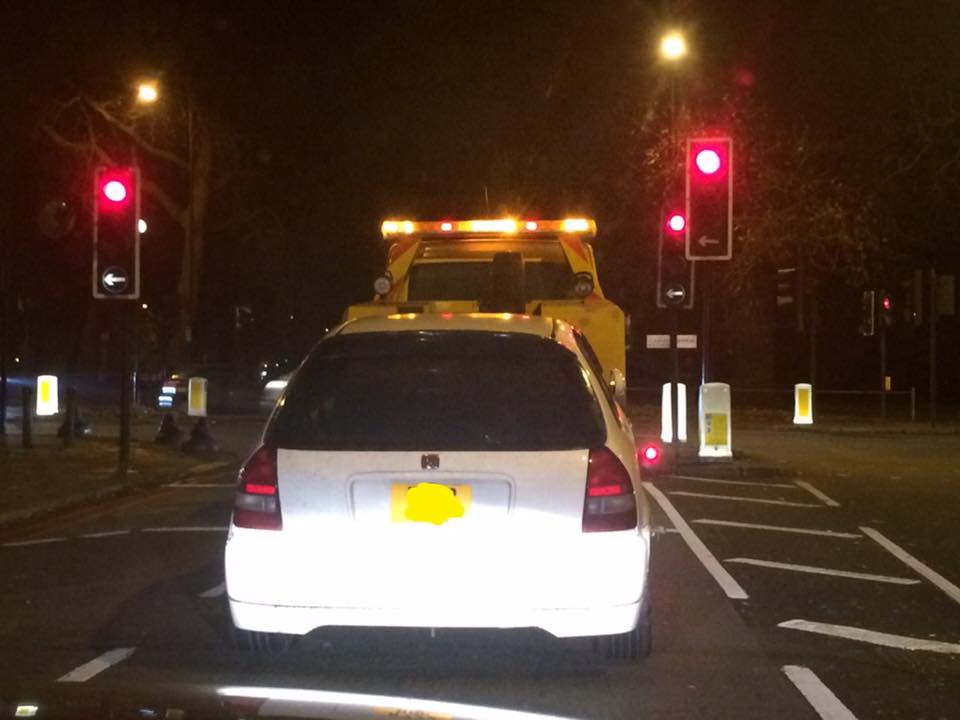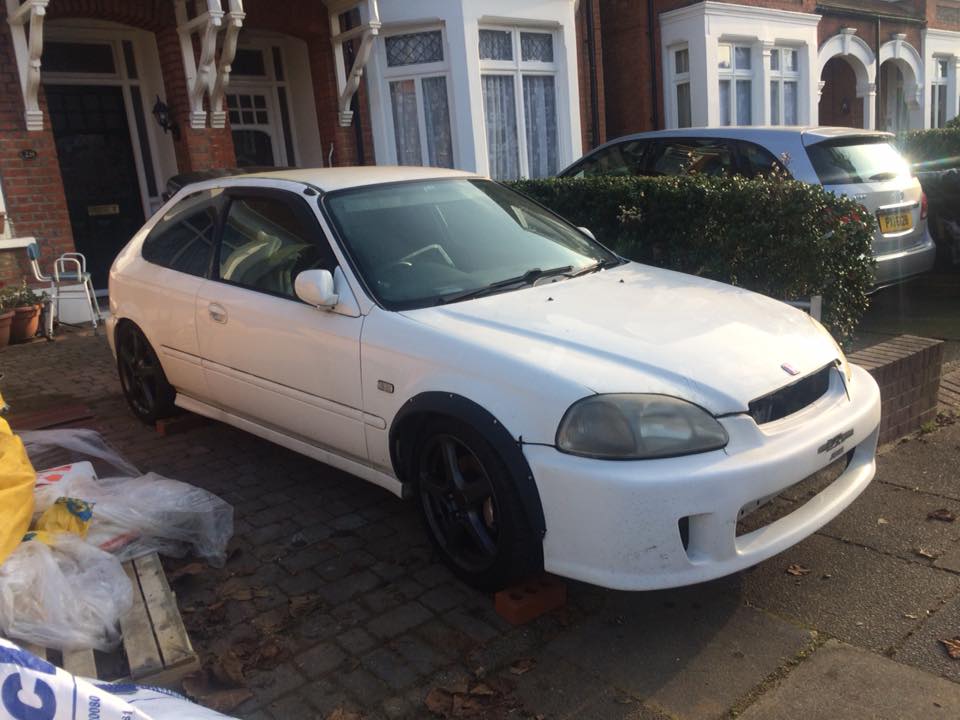 I bought a k24 bottom end and also a k20 that had a bottom end knock so i could use the parts for my k24 frank engine. One of my good friends who was a mechanic ended up building the engine for me which saved on cost.
During January 2017 and June 2017, i acquired all the parts to go kswap. almost 8-9k was spent during this period.
Hybrid racing fuel system, ktuned manifold, rbc intake, 3 inch intake, ktuned race shifters and cables, kpro and the list goes on, i will have to double check the exact bits i bought. its been so long. Michael got me some stock ek9 wheels when he was over in ireland.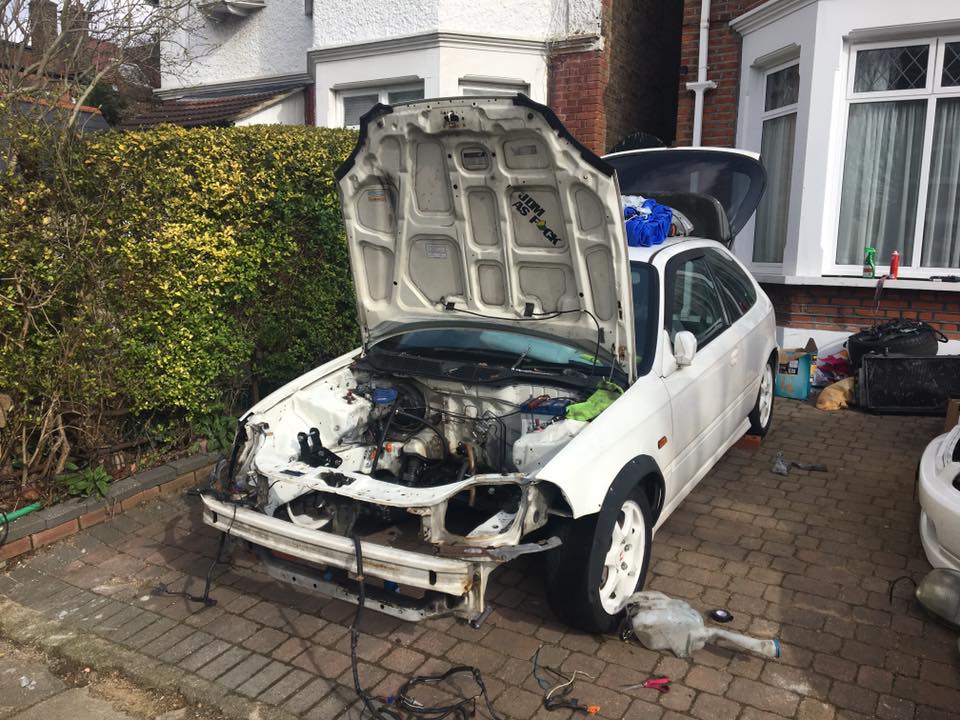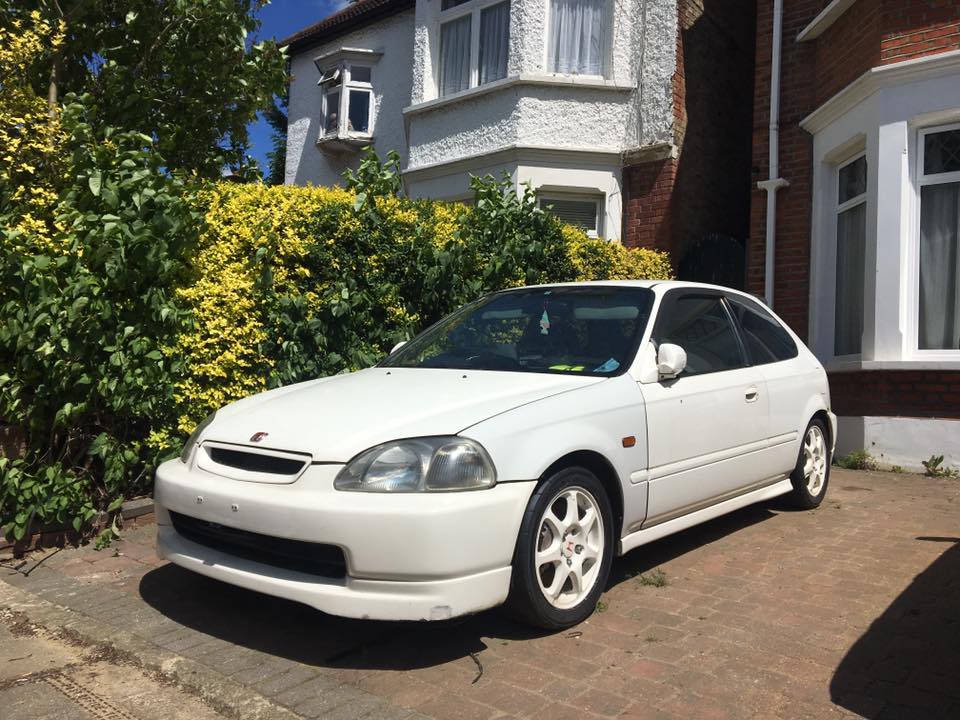 July 2017 i had all my friends come over to help put the engine in, one of my friends did record it all and the link to the video i will put below this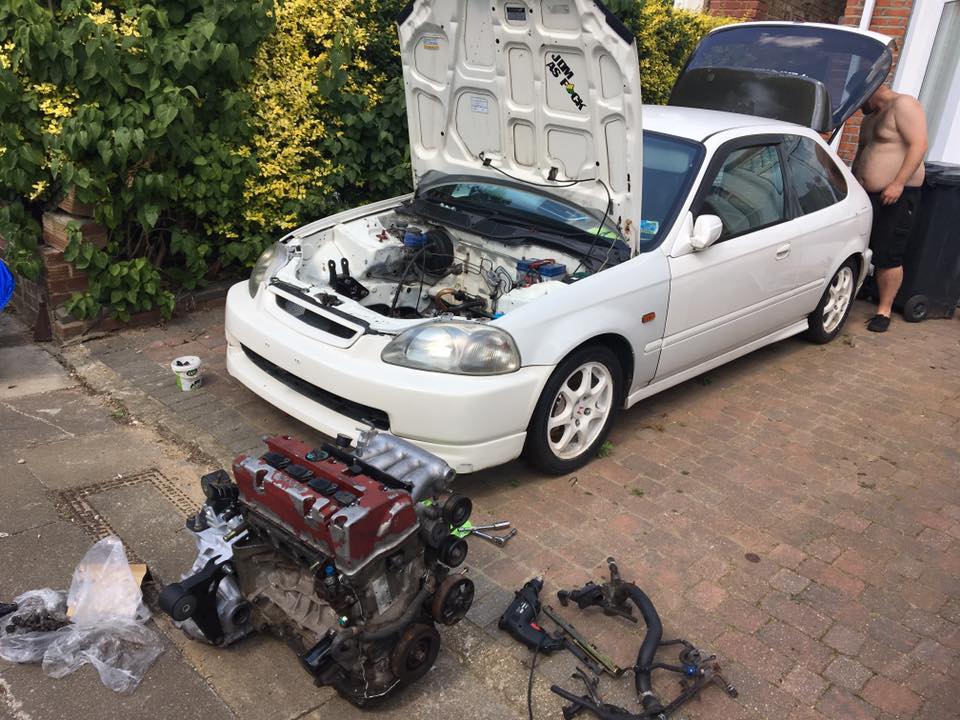 Then this is where the problems started. The car wasn't running right once we got it started, i was giving up on the car, i ended up modding my daily just so i could drive a moded car around with all my mates in thier modded cars.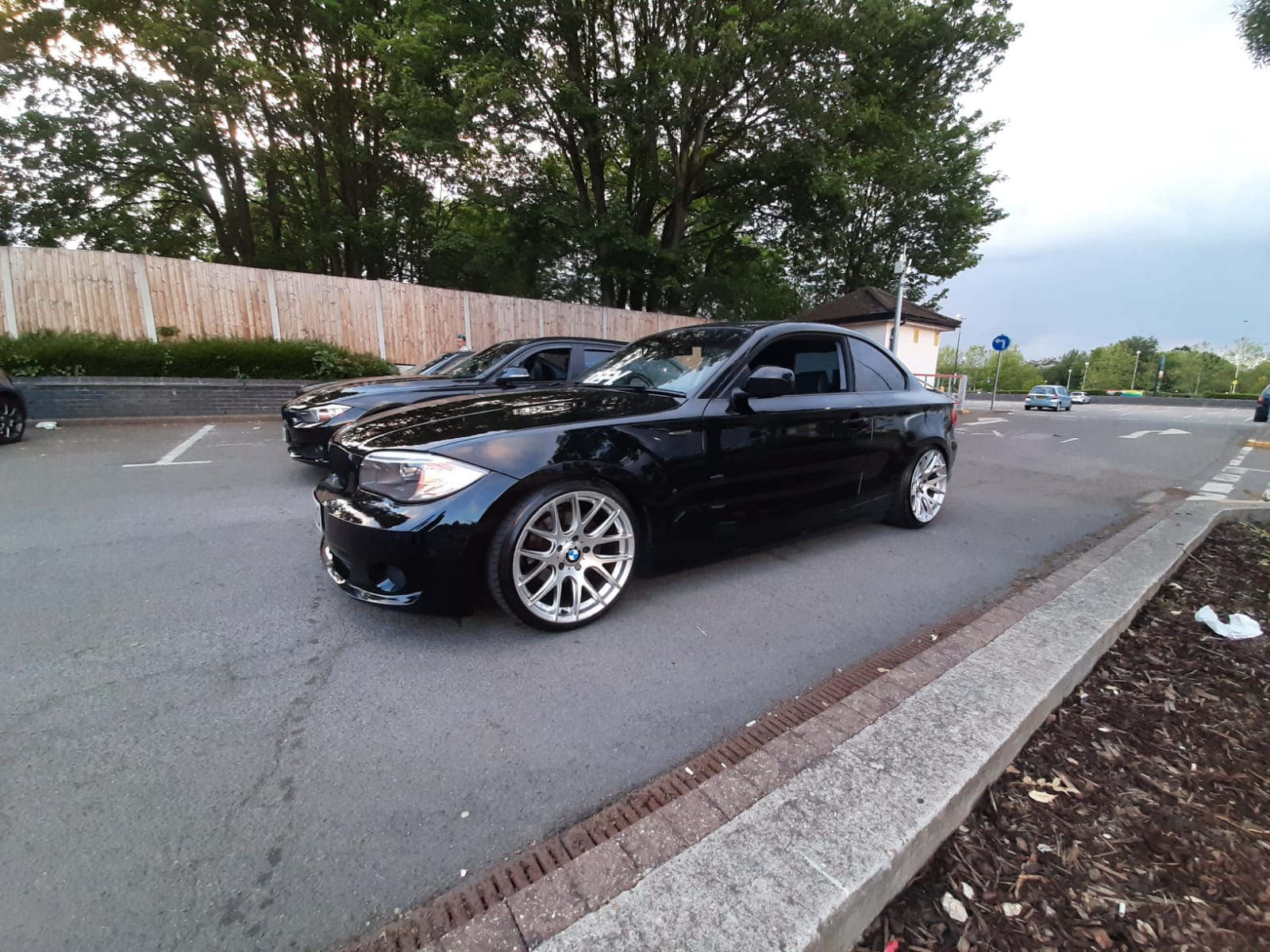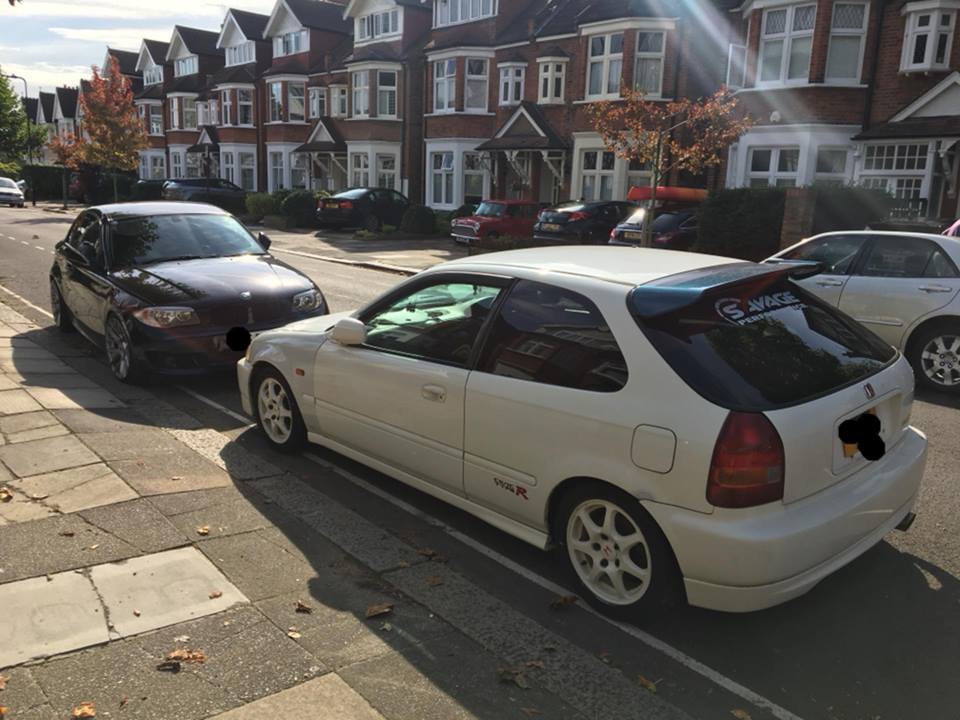 Then Dom at project phoenix/ street function garage messaged me, he is a very good friend of mine. messaged me mid September 2017 saying if i would like to drop the car to him so he could finish the car for me. i said yeah, the car got delivered to his garage.
Over the week he noticed that few things inside the head was broken and the timing was out by one tooth on the crank, he then fixed that all and got the car on the dyno to see what power it would make. everything was going well till the AFR gauge was going funky, they couldn't tell what was wrong with the engine after all the test they did with it. They reckon fuel was mixing with the oil.
Dom gave me a ring to give me the bad news, it was either rebuild the k24 or get another engine which i ended up opting for.
Hamza my friend from scotland got me in touch with a guy in Guernsey, they had a jdm k20a for sale which i immediately bout as it was at a brilliant price.
That arrived in December 2017.
Me and my mate michael got it into the van and dropped it off at doms garage.
January 2018
i get a video from dom, my cars on the dyno, it mad 241bhp at 180lbs. Im over the moon, i was looking for 225bhp but we made more on just basic bolt ons. i went to the garage on saturday to pick the car up with my sister,
Its been 2 years since iv hit vtec in a honda. As soon as i left the garage i hit vtec and the car pulled so hard like nothing iv driven before.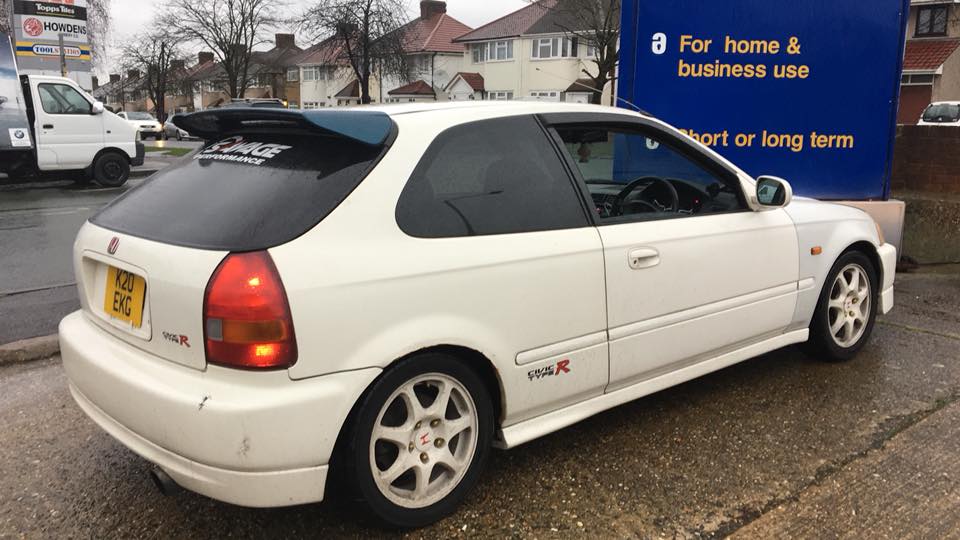 January 2018 to January 2019
2nd drive of the car, i noticed a coolant leak, didnt think it was mine, so i continued.
Snapped my exhaust i welded which i didnt know how to. fixed at 2 in the morning at my friends house, neighbors wasnt happy.
3rd drive of the car i stretched the ktuned race cable. had to use a friends crv shifter cables,
4th drive car over heated due to having no coolant in the car when i was driving to pick up my daily a friends house. got home noticed the all the coolant on the floor.
5th drive filled up coolant, bled it all seemed well for 2 weeks till there was another car meet day before my birthday.
Removed radiator and sent to tegiwa to get a replacement. small crank on bottom rad leg.
6th drive got my alarm fitted at the same time as doing my radiator.
This all happened in less than a month, was preety annoying.
7th drive i had bought a fibreglass bonnet and fitted.
then few months passed, i bought a clockwise baffle sump and a quaife hellical lsd.
Got Dom to fit it at his garage.
Then more problems ended up happening. One of my shafts which i didnt know ended up being too short. driving on the m11 at night with friends hit a bump in the road, next thing the car had no power over revving. Pulled on the hard sholder to find my shaft had come out. stuck on the side of m11 for 7 hours . took me 12 hours to get home, was already too late for work.
Fixxed the inner cup on the shaft day before mimms with help by dom.
Rockingham mimms, car handled perfectly, first car i drove with LSD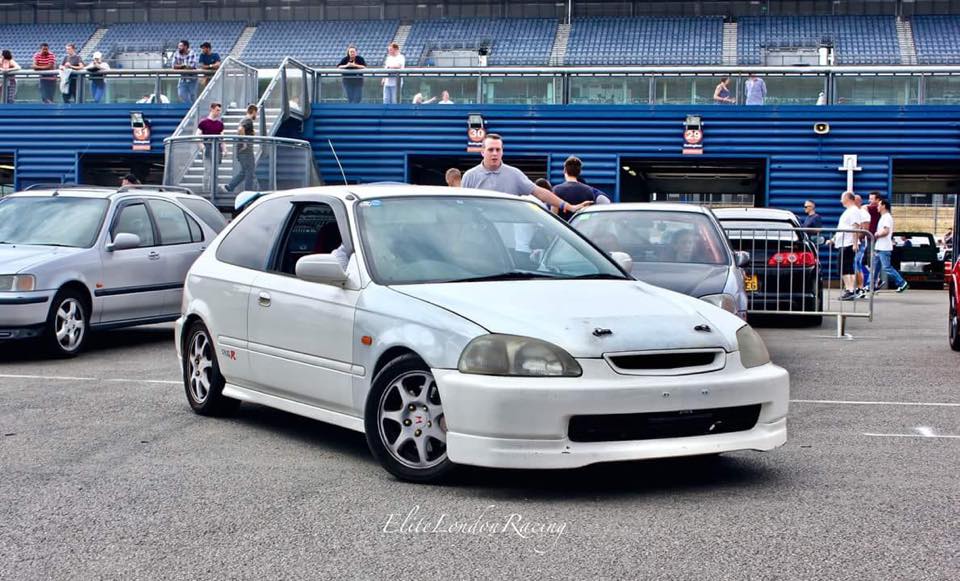 Drive shaft then ended up coming out few weeks after.
turned out shaft was short.
DSS Shaft was too short, tried to get a replacement inner cup as i noticed when i replaced it with an oem cup the bit that goes into the gearbox was too short. dss one was longer, too bad i haven't got my dss shaft fixed as their customer service is so bad.
I then got a stock length ep3 shaft with b series outter and didnt have any problems with my shaft till April mimms santa pod 2019.
I color coded my rear wing as it was white from the previous owner of the wing.
Then mods slowed down for a few months till i bought recaro spg and low profile rails
I wired up the s2000 speedo wire by wire all by myself. cost me in total of about 160£ or so.
then sprayed my stock wheels black as the paint was sooo bad on them when i got it.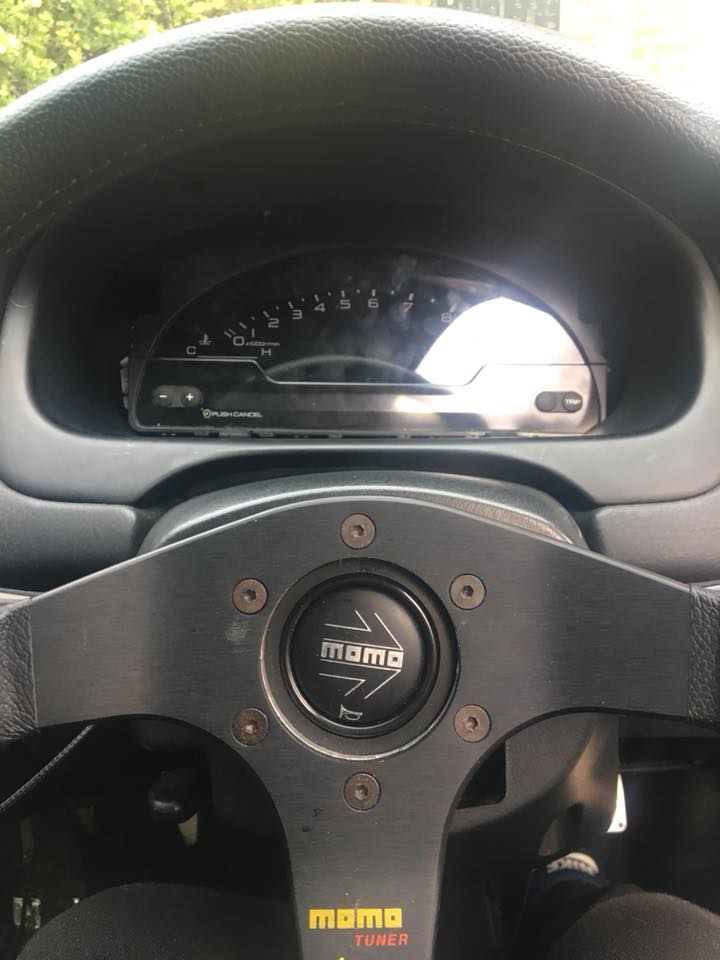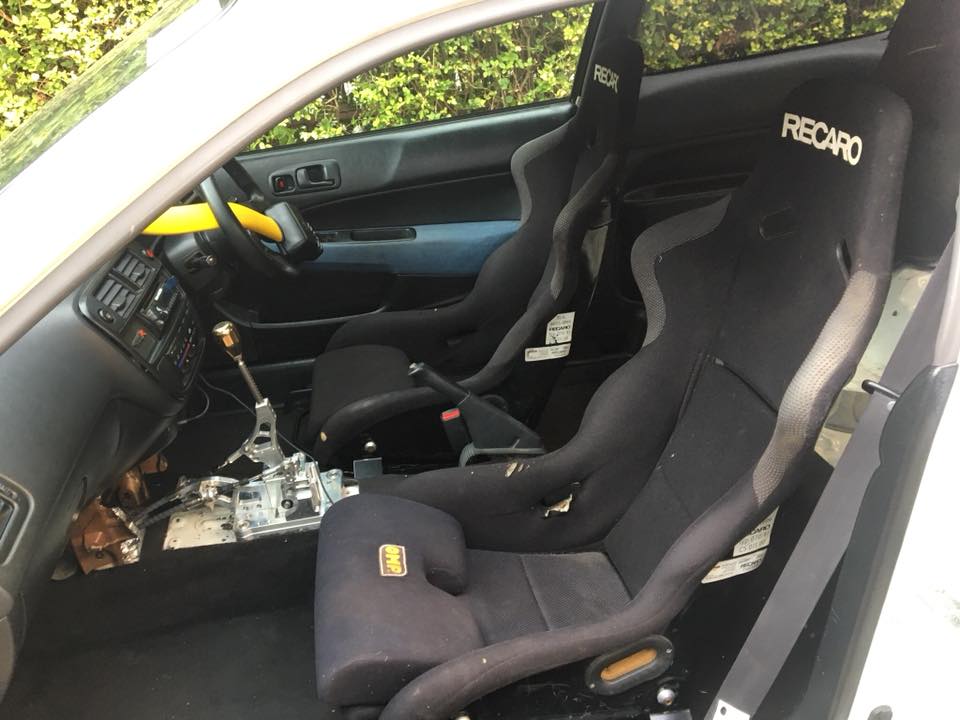 December 2018, i bought a cusco roll cage for a good price.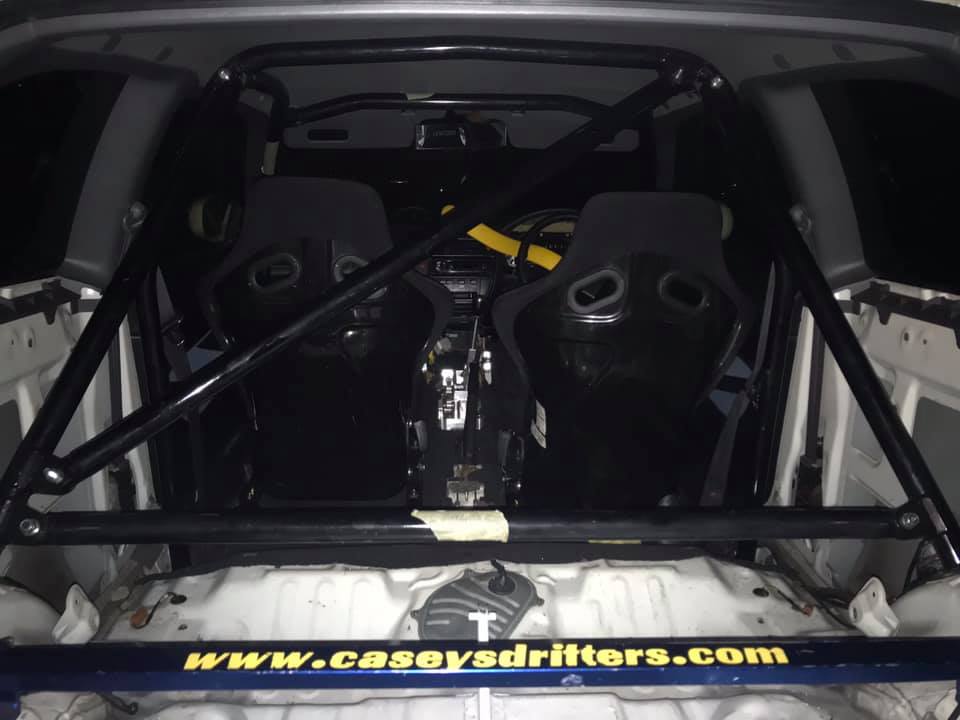 March 2019
got dom to rebuild my gear box with new gears and syncros and they were worn and crunch into certain gears.
I also bought wedport wheels which i bough of a mate who originally bought it off dom.
Nice set of 225-45-16 ad08rs purchased for them.
Mimms santapod 2019
ended up snapping my shaft on the track first run and pull of the day, luckily a mate of mine from my area was coming so i called him to stop by mine on the way to get my tools and spare shaft. we fixxed it at santa pod so we could drive home. the spare shaft was the short shaft from before so i couldnt drive fast at all.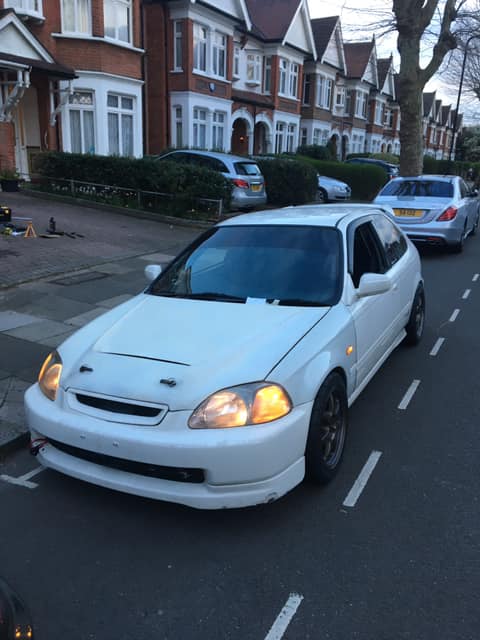 April 2019 till now mods died down big time, only nardi wheel and harnesses were bought for the car.
Serviced, change all cooolant lines, wire tucked the bay more and relocated few bits.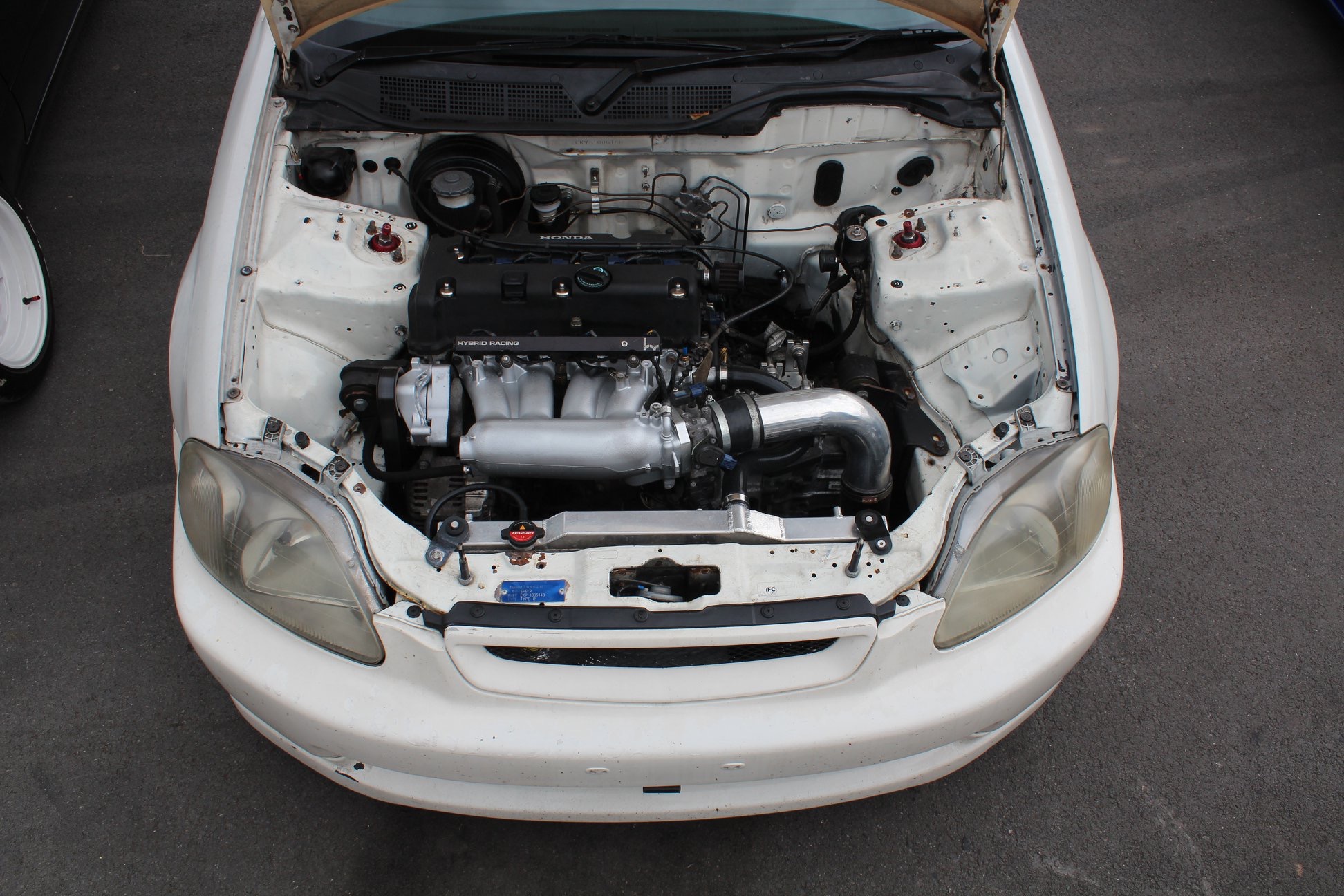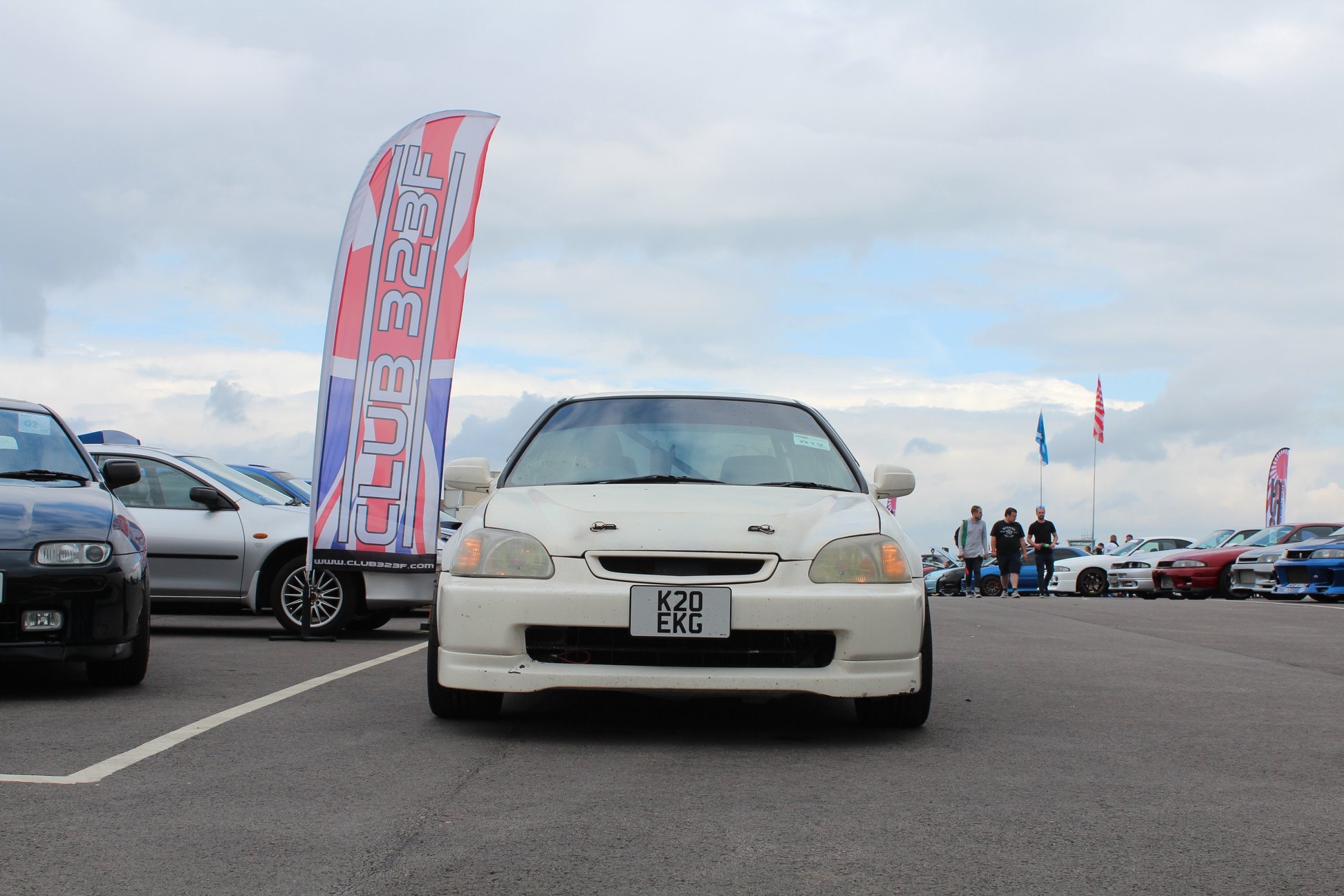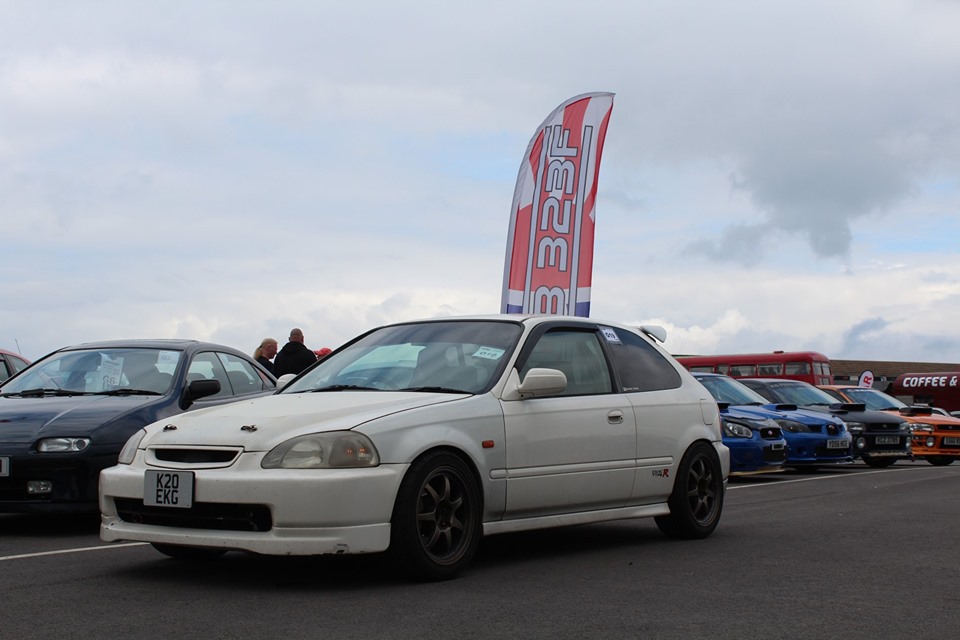 How does the car sit right now........... broken. hah. needs a new steering rack as the wobley bit sheard off. luckily i was moving the car in the driveway and wasnt moving at speed. My daily still works.
Soon to come, new exhaust, rebuild k24, respray car.
Current Spec list(copied from my old insurance that ended January 2019 and amended to September 2019)
Interior
Ktuned shifter, shifter plate and ktuned race gear cables
Rear strut brace.
X2 RECARO SPG bucket seat on m2 low seat rails
6two1 gearknob
Nardi steering wheel
Cusco Roll Cage
S2000 cluster
driftworks 4 point harnesses
Exterior
Standard body wise
Sun strip
Flip out show number plate on front
Fibreglass bonnet
Brakes and Suspension
Wilwood front brakes and braided lines
DS2500 Pads
MTEC Grooved disc
Miester r coilovers
Fuction 7 lower control arms
Integra type r subframe and steering rack
Buddyclub Camber Arms
Engine and gearbox
K20a
Rbc inlet manifold
Random pipes for intake with a v stack pod filter
Ktuned manifold Random centre pipe and backbox unknown brand
Hybrid racing fuel rail and pressure regulator
Black rocker cover
Full length ali rad with slim fan
Headlight loom tucked
Innovative 88a and solid rear engine mounts EKK2
DSS driveshafts
Kpro v4 ECU
Bwe harness adapter
Ep3 Throttle body adapter
Quaiffe helical LSD
Carbon Syncros
New gears
Wheels and Tyres
Wedsport sa90 16X8j
225-45-16 ad08r
I will actually update this thread now as its been atleast 3-4 years since ive done a thread. last time was my b16a2 swapped ej9 but that was only a few months from owning the car feb 2015 tiill august 2015 so i missed out a whole load of engine swaps and mods
Last edited: