Joined

Nov 7, 2010
Messages

682
Tyre Size Diameter Circumference Difference Speedo Fits Wheel Rim
---------- -------- ------------- ---------- ------ --------------
205/50 R15 586 mm 1841 mm -1.66 % 68.84 5.5x15 to 7x15
225/50 R15 606 mm 1904 mm 1.71 % 71.20 6x15 to 7.5x15
195/55 R15 596 mm 1872 mm 0.00 % 70.00 5.5x15 to 7x15
205/55 R15 606 mm 1904 mm 1.71 % 71.20 5.5x15 to 7x15
225/40 R16 586 mm 1841 mm -1.66 % 68.84 7.5x16 to 9x16
195/45 R16 582 mm 1828 mm -2.35 % 68.35 6.5x16 to 8x16
205/45 R16 590 mm 1854 mm -0.96 % 69.33 7x16 to 8.5x16
215/45 R16 600 mm 1885 mm 0.69 % 70.49 7x16 to 8.5x16
225/45 R16 608 mm 1910 mm 2.03 % 71.42 7.5x16 to 9x16
195/50 R16 602 mm 1891 mm 1.01 % 70.71 5.5x16 to 7x16
195/40 R17 588 mm 1847 mm -1.34 % 69.07 6.5x17 to 8x17
205/40 R17 596 mm 1872 mm 0.00 % 70.00 7x17 to 8.5x17
215/40 R17 604 mm 1898 mm 1.39 % 70.97 7x17 to 8.5x17
195/45 R17 608 mm 1910 mm 2.03 % 71.42 6.5x17 to 8x17
ok so take the top row! ill go through the numbers.
Tyre Size Diameter Circumference Difference Speedo Fits Wheel Rim
---------- -------- ------------- ---------- ------ --------------
205/50 R15 586 mm 1841 mm -1.66 % 68.84 5.5x15 to 7x15
so first
205/50 r15:
205 is simply the width of the tyre in MM.
50 is the profile of the tyre, (the distance on the sidewall from the rim to the tread of the tyre) R15 is the rim size that the tyre will fit onto.
also included can be say an '89v'. 89 is the weight thetyre can take and v is the speed rating.
circumfrence is pretty self explanatory
-1.66 % 68.84. the -1.66% is the difference in speedo reading you will get over a standard oem tyre that was fitted to the car from factory. The 68.84 is what speed your speedo will read if your car is actually travelling at 70 mph. which should be consistent with your percentage diffrence.
offset is the distance between the center of the alloy to the part of the wheel that touches the hub. as such....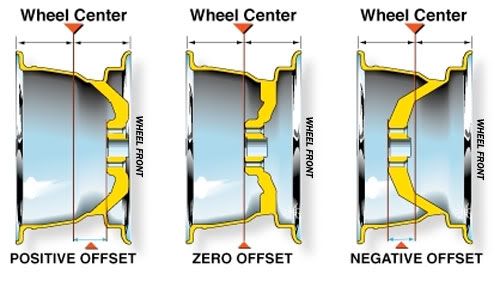 5.5x15 and 7x15 refers to the wheel width in inches, often refered as 5.5j, 7j etc...
thanks to elchunk for help
vtec yo
Last edited: